My Telescope & Hobby
Last revised: 09/06/06 07:49 PM
link to: End Of The World Events or The Sky Data Bases (SDB's)
My telescope is the Orion 8" Deep Space Explorer with Dobsonian mount.
This picture shows the telescope with Telrad and dew shields installed. The funny looking objects, sitting on the bottom right, are 3 bean bag frogs with velco attached on their bottoms. I use them as adjustable counterweights
It's separates into two pieces for easy transport and I take it with me whenever I go camping. I sometimes get my most enjoyment from showing the other campers the sights.
For a scope like mine I found the best aiming sight to be the Telrad Reflex Sight.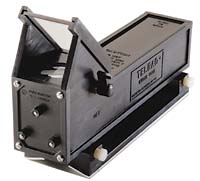 I went from a frustrating 20-30 minutes to sight a celestial object to less than a minute. It is a very easy device to use. And I've recommended it to every person who has a non-computer driven scope. One couple I meet at the Annual Island Lake Star Party (outside Detroit, MI USA) were so excited about the Telrad they saw on my scope, that they dug up every bit of change they had and bought the last one at the party. I even gave one to my father-in-law.
What to Look At?
I subscribe to Astronomy magazine. Each issue covers one month and has a fold out in the center, showing a simple star map of what can be seen for that month. It also has details on sky objects of good viewing for that month.
I use this as a guide of what I may observe in the coming months. For example, I used the July 1995 issue to observe most of the galaxies in the Virgo Galaxy Cluster.
Software Observing Programs
I use two different programs depending on weather I'm at work or home.
At work, which restricts software on PC's, I use an old DOS version of SkyGlobe. It quick and usually answers those questions from co-workers. Like: "What is that ______ I saw this morning/last night?"
Then at home I use The Sky Level IV. It does everything. Including controlling telescopes. I especially like being able to add new interesting objects of current interest.
The Sky software allows importing of user definable data bases. I've created many Sky Data Bases (SDB's) using Access 2000. Some I use when camping for outreach.
Logging Observations.
The best method I found for keeping simple records of observations, is to record the object observed date next to the item in the Index of our The Audubon Society 'Field Guide to the Night Sky' book.
This book has beautiful pictures of most of the major astronomical objects. And also gives the user a quick and dirty method to confirm what object is really being observed.
Log of Observations:
Not every observation is logged, but I usually do log most observations done with my telescope during any camping trips.
 Solar Objects / Date 
Messier Objects / Date / Name
M3	23 May 98	Globular Cluster

M8	1 Oct 94	Lagoon Nebula

M11	1 Oct 94	Open Cluster

M13	1 Oct 94	Globular Cluster

M15	21 Jul 95  	Globular Cluster  

M16	2 Jul 95	Open Cluster & NGC 6611 Nebula

M20	1 Oct 94	Trifid Nebula

	3 Jul 95	repeat

M22	1 Oct 94	Globular Cluster

M26	1 Oct 94	Open Cluster

M27	5 Aug 95	Dumbell Nebula

M31	21 Jul 95	Great Andromeda Galaxy (NGC 224) Most distant object visible.		

M32	21 Jul 95	Round Galaxy (NGC 221)

M44	21 May 95	Praesepe Open Cluster

	21 May 98	repeat

M51	1 Sep 95	Whirlpool Spiral Galaxy

	20 May 98

M52	2 Sep 95	Open Cluster

M56	22 Aug 95	Globular Cluster

M57	3 Jul 95	Ring Nebula

M59	22 May 95	Elliptical Galaxy

M60	22 May 95	Elliptical Galaxy

M63	23 May 98	Spiral Galaxy

M65	21 May 98	Spiral Galaxy

M71	5 Aug 95	Globular Cluster

M84	22 May 95	Elliptical Galaxy

	21 May 98	repeat

M86	22 May 95	Elliptical Galaxy

	21 May 98	repeat

M88	22 May 95	Spiral Galaxy

M99	22 May 95	Spiral Galaxy

M104	26 May 95	Sombrero Spiral Galaxy

M110	21 May 95	Elliptical Galaxy (NGC 205)
  NGC Objects / Date / Name
NGC 869	21 Jul 95	Double Clusters (w/884)

NGC 884	21 Jul 95	Double Clusters (w/869)

NGC 4387	21 May 98	Virgo Cluster Galaxy

NGC 4388	21 May 98	Virgo Cluster Galaxy

NGC 4402	21 May 98	Virgo Cluster Galaxy

NGC 4413	21 May 98	Virgo Cluster Galaxy

NGC 4425	21 May 98	Virgo Cluster Galaxy

NGC 4431	21 May 98	Virgo Cluster Galaxy

NGC 4435	21 May 98	Virgo Cluster Galaxy

NGC 4436	21 May 98	Virgo Cluster Galaxy

NGC 4438	21 May 98	Virgo Cluster Galaxy

NGC 4440	21 May 98	Virgo Cluster Galaxy

NGC 4458	21 May 98	Virgo Cluster Galaxy

NGC 4461	21 May 98	Virgo Cluster Galaxy

NGC 4473	21 May 98	Virgo Cluster Galaxy

NGC 4476	21 May 98	Virgo Cluster Galaxy

NGC 4477	21 May 98	Virgo Cluster Galaxy

NGC 4478	21 May 98	Virgo Cluster Galaxy